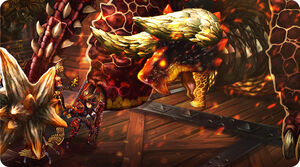 Patch for the Game version 3.0.3.
Schedule 3/14 6:00PM ~ 11:00PM PDT
3/15 9:00 ~ 14:00 SGT
3/15 2:00 ~ 7:00 CET
Duration: 5 Hours
Honor Gorge
The Honor Gorge is an activity map that is located under the "Fight" button in the main lobby. Check out the article for everything you need to know.
New World Boss - Shariet
Check out the new World Boss's new article for everything that you need to know about its skills and mechanics as well as a tactic guide.
4v4 Guild Battle
The Guild Battle mode got a revamp. Instead of 2 Characters + 2 Allies you will now attend the battle with your Character and 3 other Helper Characters.
Read everything about the new System on the Guild Battle Page.
New Pet - Scarlet Tia
(Already implemented on 10th of March emergency patch)
This pet can be purchased for 9.99$. Read everything on the Pet page.
Magic enchanting
Get U Gear / Item Effects on every of your SS~U weapons, with this new feature. Read everything on the Magic System article page.
Coin Shop
The Arena Shop will be replaced by the new Coin shop, located in the new Honor Gorge. Read everything on the Coin Shop article page.
Miscellaneous
New Belle Reminder Notices!

Todays Objective
Desiered Level Rewards for new Characters created after the patch. (Once per account)

Auto-retry for Arena added
Maximum gold increased to 2.1 billion
Season 2 Resource Download Achievement removed
Participate in World Boss and Guild Battle 10X Achievement removed (all players will receive during maintenance)
The existing "Arena Costume" achievements will be removed and replaced with new ones. (If you haven't claimed the costume reward yet, please do so before the maintenance. Paladin is excluded.)
Arena, World Boss, and Guild Battle achievements will be reset during maintenance.
Guild Battle will not be counted during the time of the previous Guild Battle Season and maintenance. Please participate once the maintenance ends.
Ad blocker interference detected!
Wikia is a free-to-use site that makes money from advertising. We have a modified experience for viewers using ad blockers

Wikia is not accessible if you've made further modifications. Remove the custom ad blocker rule(s) and the page will load as expected.