Patch for game version 3.0.5 (to be confirmed)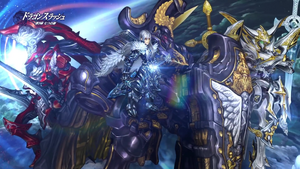 Schedule
Americas: 4/25 6:00PM ~ 12:00AM PDT
EU: 4/26 3:00 ~ 9:00 CEST
SEA: 4/26 9:00 ~ 15:00 SGT
Duration: 6 Hours
This Patch will not unlock a new area or increase the level cap. Only the Dragon Busters will be added to the game.
Revival orders will be updated. They are now able to revive Key Units.
Check out the release posters:
Source: Usa Forum
Ad blocker interference detected!
Wikia is a free-to-use site that makes money from advertising. We have a modified experience for viewers using ad blockers

Wikia is not accessible if you've made further modifications. Remove the custom ad blocker rule(s) and the page will load as expected.