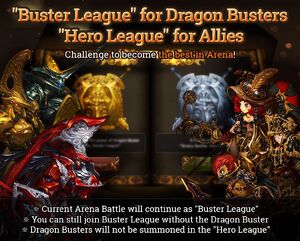 Patch for game version 3.0.8.
Schedule:
Expected: 4.5 Hours
5/30/16 18:00 ~ 5/30/16 22:30 PDT
5/31/16 9:00 ~ 5/31/16 13:30 SGT
5/31/16 3:00 ~ 5/31/16 07:30 CEST
New Content
League System - PvP Game modes (except Fortress) will now be seperated into two leagues

Buster League can be attended by anyone, and Key units will be allowed here.
Hero League can be attended by anyone, but no Keys will activate here.

2nd Awakened Wave - Tainted Loki & Power Sword Ackard
Miscellaneous
Deus Ragnarok entry ticket price has been reduced from 10 to 5. Players can now buy 1 Badge:Ragnarok ticket in all chapter 2 Raids for 5 tokens.
Auto-enhance Equipment function added - A checkbox will now be tickable in the enhancment UI. Dragging legitimate items into the enhance box will automatically start the enhancment, without the previous pop up dialouge box.
Ad blocker interference detected!
Wikia is a free-to-use site that makes money from advertising. We have a modified experience for viewers using ad blockers

Wikia is not accessible if you've made further modifications. Remove the custom ad blocker rule(s) and the page will load as expected.