Patch for the game version 3.0.6 (awaiting confirmation)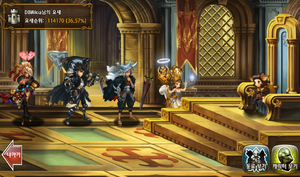 Schedule:
Americas: 5/2 6:00PM ~ 5/3 12:00AM PDT
EU: 5/3 3:00 ~ 9:00 CEST
SEA: 5/3 9:00 ~ 15:00 SGT
Duration: 6 Hours
New Content
Fortress Battle
The Fortress Battle mode is a new Game mode, where player set up a Defending team to protect their own castle, and attack other players to climb the ladder.
Check out the Fortress Battle article for information.
Destruction Dungeon
Similar to the Daily Dungeon - A Dungeon like PvE game mode where players raid new monsters every day, to gain item rewards.
Check out the Destruction Dungeon article.
New Pet - Deadly Fire
This new pet combines Skill Cards or Jewels automatically, and reduces the prize to do so.
Check out the full description in the Pets article.
Adjustments
Dragon Busters will now be able to be summoned at 100% STA. This new adjustment can be set in the Key window, as usual.
Rewards can be claimed automatically now.
New Game Icon. Check out Gamevil and the Application Icon section.
Other minor changes
Cherry Blossom event comes to an end. Items can be exchanged until 20/5.
Other Events come to an end (1+1, Bonus rubies/gold)
Ad blocker interference detected!
Wikia is a free-to-use site that makes money from advertising. We have a modified experience for viewers using ad blockers

Wikia is not accessible if you've made further modifications. Remove the custom ad blocker rule(s) and the page will load as expected.