| | | |
| --- | --- | --- |
| " | If the skies refuse to bring thunder, I'll strike down thunder myself. | " |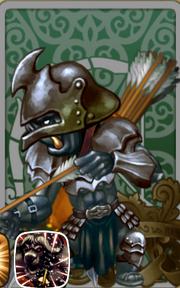 Ur is an elite Orc archer whose nimble bow carries the force of cannon balls. The mere sound of his unique arrows strike fear into his enmies.
| | |
| --- | --- |
| Role | DPS |
| Main | Bow |
| Offhand | Quiver |
| Main Attribute | DEX |
Skill
Effect
Cooldown
(Active 1)
Fire Extinguishing Arrow
An Orc can release an arrow powerful enough to split mountains.

Inflicts 606% damage.

12.5 sec
(Active 2)
Arrow of Destruction
An arrow of energy that holds the potential to crush anything.

Inflicts 484% damage and decreases the enemy's DEF by 52% for 19 sec.

16.3 sec
(Active 3)
Thunder Arrow
This arrow of the Orcs delivers thunder from the heavens and forces submission.

Inflicts 733% damage.

15.0 sec
(Passive 1)
Archery Skills
Orcs that have specialized themselves for battle will handle arrows with a speed that none can surpass.

Increases ATK Speed by 18%.

(Passive 2)
Respecting the Strong
Orcs show respect only to those who are stronger. All the while, an intense desire to defeat them burns within.

Increases damage by 27% when battling a boss.
Additional Information
His DEF reduction can stack due to his CD being lower than the skill's duration.












Ad blocker interference detected!
Wikia is a free-to-use site that makes money from advertising. We have a modified experience for viewers using ad blockers

Wikia is not accessible if you've made further modifications. Remove the custom ad blocker rule(s) and the page will load as expected.