| | | |
| --- | --- | --- |
| " | The battlefield is no place for a blessing. | " |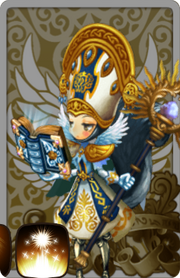 Shabelle is a Porori that rose to become Guardian Captain. She is the Alliant Force's greatest healer.
| | |
| --- | --- |
| Role | Healer |
| Main | Magic Wand |
| Offhand | Magic Orb |
| Main Attribute | INT |
Skill
Effect
Cooldown
Normal Attack
Increases INT
(Active 1)
Heal All
The power of light is the power to heal.

Restores HP of all party members by 201% of ATK.

7.9 sec
(Active 2)
Light of Life
When everyone's hearts are united in hope, all incapacitated party members can be revived.

Revives all Party members with 25% HP.

84.3 sec
(Active 3)
Perfect Shield
Great strength can be derived from empathy towards objects.

Grants Invulnerability to 1 Party member for 12 sec.

54.7 sec
(Passive 1)
Power Heal
The more you study the power of light, the greater your strength will become

Increase HP Recovery by 14% when healing party.

(Passive 2)
Area of Light
Gathers light scattered throughout the world to create an area of absolute light

Grants entire party the ability to inflict Holy damage equal to 6% of base ATK.
Additional Information
Shabelle is the only non deity healer with the ability to resurrect all party members, making her a much sought out ally.












Ad blocker interference detected!
Wikia is a free-to-use site that makes money from advertising. We have a modified experience for viewers using ad blockers

Wikia is not accessible if you've made further modifications. Remove the custom ad blocker rule(s) and the page will load as expected.