| | | |
| --- | --- | --- |
| " | I will fulfill my duty. I will eliminate. | " |
Royal Assassin of Darkness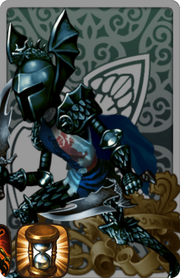 Dark Assassin Percy, from the King's royal guards, is a cold-blooded killing machine. None that he has targeted have escaped death thus far.
| | |
| --- | --- |
| Role | DPS |
| Main | Dagger |
| Offhand | Dagger |
| Main Attribute | DEX |
Skill
Effect
Cooldown
(Active 1)
Perfect Ambush
Hides completely to launch a surprise attack that renders the enemy powerless.

Inflicts 491% damage and disables skills for 17 sec.

20.9 sec
(Active 2)
Swift Attack
Your best bet is to launch an attack before the enemy does. Awaken all your senses to deliver an attack faster than anyone else.

Increases ATK Speed by 54% for 40 sec.

52.3 sec
(Active 3)
Vanish
Clear your mind and become one with your surroundings to become invisible from your enemies.

Vanishes for 15 sec and increases ATK by 49%.

41.8 sec
(Passive 1)
Innate Ability
Ability honed purely through diligence. Diligence is his only choice and his greatest ability.

Increases DEX by 14%.

(Passive 2)
Swift Moves
Uses exceptional senses to seize the perfect time to attack.

Increases ATK Speed by 19%.
Additional Information
He is referred to as Forsyth in some of the Party Effects descriptions.