| | | |
| --- | --- | --- |
| " | You'll survive hell if you're strong enough to fight against me. | " |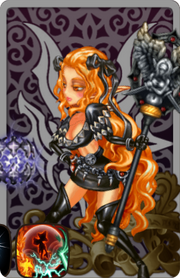 Cruel Pearla is a top-rate Mage of the Dark Elves. Even as a child, she would let the flames of her rage engulf anyone who crossed her.
| | |
| --- | --- |
| Role | DPS |
| Main | Magic Wand |
| Offhand | Magic Orb |
| Main Attribute | INT |
Skill
Effect
Cooldown
(Active 1)
Tarlum's Energy
Generates a powerful energy ball by using Tarlu'm energy.

Inflicts 725% damage.

13.8 sec
(Active 2)
Hell Fire
Borrows energy from hell to throw a terrible fireball at the enemy.

Inflicts 288% damage on all enemies.

23.2 sec
(Active 3)
Token of Attack
A token of promise given by the respected ancient gods of the Dark Elves.

Increases entire party's ATK by 41% for 35secs.

77.4 sec
(Passive 1)
Norte's Darkness
Generate a dark energy by borrowing power from Norte, master of the night.

Adds additional 15% Arcane damage to attacks

(Passive 2)
Yggdrasil's Protection
Strengthens immunity through the power of Yggdrasil, the Guardian of life.

Increases entire party's Immunity by 7%.
Ad blocker interference detected!
Wikia is a free-to-use site that makes money from advertising. We have a modified experience for viewers using ad blockers

Wikia is not accessible if you've made further modifications. Remove the custom ad blocker rule(s) and the page will load as expected.