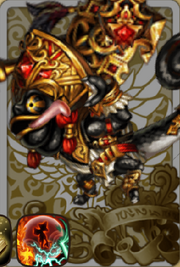 The power of darkness synchronizes well with the power of curse that Brett wished for. It might be too late when you feel the power of curse tightening around your throat.
| | |
| --- | --- |
| Role | Healer |
| Main | Magic Wand |
| Offhand | Magic Orb |
| Main Attribute | IBT |
Skill
Effect
Cooldown
(Active 1)
I Got Your Back
Watching the party memeber in agony brings the true character back.
Recovers the party memeber's HP equal to 675% of ATK.
21.8 sec
(Active 2)
You're Not Enough
Curses the enemy from using skills. It gets boring to wait after a while.Delivers a curse on all enemies that increases skill cooldown by 50% for 30%.

18.7 sec
(Active 3)
Shut It!
This is the biggest curse on the Reptilians that goes through generations.
Silences the enemy with a 80% chance for 12 sec and decreases ATK Speed by 32% for 21 sec.
52 sec
(Passive 1)
Clever Tribe
Makes me want to study more on the curse so I can make even more powerful ones...
Increases INT by 14%
(Passive 2)
Better Be Prepared
When the Reptilians appear, it becomes really cold. The enemies get sick.
Decreases all enemies' immunity by 50%.
Ad blocker interference detected!
Wikia is a free-to-use site that makes money from advertising. We have a modified experience for viewers using ad blockers

Wikia is not accessible if you've made further modifications. Remove the custom ad blocker rule(s) and the page will load as expected.