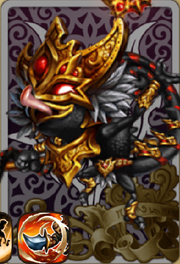 Ancient mana in the Hanging Tower is nourishment for Kersit. It seems like there's no way to avoid Kersit's lightning.
| | |
| --- | --- |
| Role | DPS |
| Main | Magic Wand |
| Offhand | Magic Orb |
| Main Attribute | INT |
Skill
Effect
Cooldown
(Active 1)
Frosty Lighting
The lighting from the Reptilians sorcerer with the power of darkness is chilling.
Inflicts 841% damage on the enemy. Inflicts 173% continuous damage for 8 sec.
17.3 sec
(Active 2)
Thunderbolt
It's judgment day! See that electric charge in the air and a lighting on all enemies? I love it!
Inflicts 442% damage on all enemies.
18.8 sec
(Active 3)
Rain of Curse
Venom spread in the air is poisoning the enemies!
Inflicts 398% damage on all enmeies with additional 145% fixed damage.
18.8 sec
(Passive 1)
It's Ok to Miss!
Attack! Attack! Keep attacking! The power of darkness looms from the ground.
Increases ATK by 29%.
(Passive 2)
Power of Critical Hit
Keen awareness allows to see through the enemy's weakness.
Increases CRIT Damage by 27 and DEF Penetration by 30.
Ad blocker interference detected!
Wikia is a free-to-use site that makes money from advertising. We have a modified experience for viewers using ad blockers

Wikia is not accessible if you've made further modifications. Remove the custom ad blocker rule(s) and the page will load as expected.