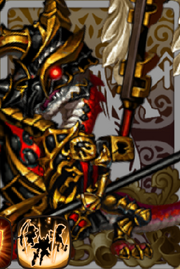 Rositt, who controls dark power, charges in with a spear that is indwelled by the flames of hell. The spear pierces through the body of the intruders.
| | |
| --- | --- |
| Role | Tank |
| Main | Longsword |
| Offhand | Shield |
| Main Attribute | STR |
Skill
Effect
Cooldown
(Active 1)
Deep Stab
A deep stab attack is fatal.
Inflicts 656% damage on the enemy and stun for 12 sec.
15.6 sec
(Active 2)
Deep Split
Seems like a simple stab attack, but it tears the enemy's soul apart.
Inflicts 656% damage on the enemy and prevents receiving buffs for 9.5 sec.
18.2 sec
(Active 3)
Defend!
Friend now know about various defensive technques of Reptilians.
Increases all party memebers' DEF by 30% for 25 sec.
20.3 sec
(Passive 1)
Numb
Normal attacks do not work for Reptilians.
Decreases damage on normal attacks by 25%.
(Passive 2)
All About Strength
Giddy up! Time to cheer for the party!
Increases the party member's ATK by 13%.
Ad blocker interference detected!
Wikia is a free-to-use site that makes money from advertising. We have a modified experience for viewers using ad blockers

Wikia is not accessible if you've made further modifications. Remove the custom ad blocker rule(s) and the page will load as expected.