| | | |
| --- | --- | --- |
| " | Let me hear your beautiful scream. | " |
Reaper of Destruction, Dark Soul Morgana
파멸의 사신, 모르가나
(pamyeol-ui sasin, moleugana)

[i]
 Morgana is the keeper of the Cursed Stones, a culmination of sacrificed souls. the painful screams of souls who become prey to the radiant light are music to hear ears.
Skill
Effect
Cooldown
Normal Attack
Decreases Immunity of enemies during normal attack.
(Active 1)
Specter of Doom
(MG/Ranged)
Anyone who is reflected in the darkness that was leaked out of Morgana's Cursed Stone will turn into a Dark Fragment.
Removes buffs of all enemies with a set chance. Inflicts 1952% damage and changes enemies into fragments for 10 sec. An enemy that turns into the Dark Fragment receives 100% of damage that Morgana receives. Can turn enemies into a fragment only if they are in the same or lower Enhance level. Cannot dispel Dark Fragment.
18.8 sec
(Active 2)
Otherworld Scythe
(MG/Ranged)
When Morgana wields the Grim Reaper, which carries the blood at the Netherworld's God, the enemies' souls freeze.
Inflicts 3973% of damage, removes all buffs, and stuns for 10 sec (1 enemy).
10.1 sec
(Active 3)
Metastasis
(MG/Ranged)
The energy of the Dark Fragment coils around the enemy and makes them forget about the source of the skill, which makes them turn back into a Dark Fragment.
Inflicts 2093% damage on all enemies and silences for 10 sec. If the target is a Dark Fragment, the duration of being a Dark Fragment resets.
14.4 sec
(Passive 1)
Energy Border
When the spirit of destruction seals an enemy for eternity, it reaches out its hands to look for a new prey.
When an enemy dies as a Dark Fragment, the Dark Fragment infects to 1 other random enemy. The infection applies regardless of the enhance level.
(Passive 2)
Dark Fantasy
The fragment's life energy comes from Morgana's Jewel. Anyone who recklessly breaks the jewel will be sealed Inside it forever.
When Morgana dies, all enemies in the state of a Dark Fragment die or invoke summon.
(Passive ULT)
Frozen Land
The light of darkness that comes out from the Cursed Stone continues to weaken the enemy.
Decreases debuff resist of all enemies by 70, and immunity by 70.
Main article Key Adopted Passives

Mage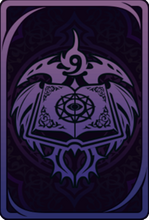 Passive 1
Passive 2
Passive 3
Intelligence Increase
Weapon Use
Flame Study
(Critical chance is; Fire Seals are not)
| Unit | Passive 1 | Passive 2 |
| --- | --- | --- |
| | Angel's Blessing | Angel's Caress |
| | Master Conductor | x |
| | x | Fox's Instinct |
| | x | Eternal Nightmare |
| | x | Enhanced Horsepower |
| | Frozen Enchant | Witch of Death |
| | Wrath of Fire | Reflux |
Skill
Explanation
Normal Attack
 [MG/Ranged/SG] (submit debuff stacks in comments) It appears that this debuff will take form in the Damage over Time debuff icon.
(Active 1)
Specter of Doom
(MG/Ranged)
 [AOE]
(Active 2)
Otherworld Scythe
(MG/Ranged)
 [SG]
(Active 3)
Metastasis
(MG/Ranged)
 [AOE] It can happen that Morgana will only attack two or less enemies with this skill.
(Passive 1)
Energy Border
 [SG]
(Passive 2)
Dark Fantasy
 "[O]r invoke summon" should state that Summons will be dismissed instantly.
(Passive ULT)
Frozen Land
 
Enhancement Costs
Enhance State
Stat Increase
Ressources
+1
10%
3 Transcended essences
1 SSS Ally
500.000 Gold
+2
10%
3 Transcended essences
1 SSS Ally
600.000 Gold
+3
10%
3 Transcended essences
1 SSS Ally
700.000 Gold
+4
20%
6 Transcended essences
1 SSS Ally
800.000 Gold
+5
20%
6 Transcended essences
1 SSS Ally
900.000 Gold
+6
20%
6 Transcended essences
1 SSS Ally
1.000.000 Gold
+7
30%
9 Transcended essences
1 SSS Ally
1.100.000 Gold
+8
30%
9 Transcended essences
1 SSS Ally
1.200.000 Gold
+9 / MAX
30%
9 Transcended essences
1 SSS Ally
1.400.000 Gold
Total
180% Stat Increase
54 essences total
9 SSS Allies
8.200.000 Gold
+10 / MAX+1
30%
9 Transcended essences
2 SSS Ally
1.600.000 Gold
+11 / MAX+2
30%
9 Transcended essences
2 SSS Ally
1.800.000 Gold
+12 / MAX+3
30%
9 Transcended essences
2 SSS Ally
2.000.000 Gold
+13 / MAX+4
30%
9 Transcended essences
2 SSS Ally
2.300.000 Gold
+14 / MAX+5
30%
9 Transcended essences
2 SSS Ally
2.600.000 Gold
+15 / ULT
30%
9 Transcended essences
2 SSS Ally
2.900.000 Gold
Total
360% Stat Increase
108 essences total
21 SSS Allies
21.400.000 Gold