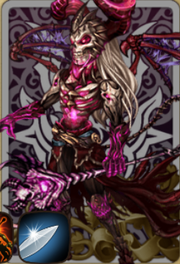 Ertanible's familiar spirits are far more superior than the others who fell over to the dark side. These spirits do not forgive those who stand against Ertanible.
| | |
| --- | --- |
| Role | DPS |
| Main | Magic Wand |
| Offhand | Magic Orb |
| Main Attribute | INT |
Skill
Effect
Cooldown
(Active 1)
Imp Invocation
To Incubi, imps aren't underling's. They're friends!
Summons an Imp for 20 sec. The Imp will either cast a spell that disables the enemy's skills or launch an attack over the area and inflict Arcane damage.
23.4 sec
(Active 2)
The Memory of a Nightmare
The memory of the nightmare continues to haunt the enemy and renders them helpless.
Inflicts 774% on 1 enemy and reduces their ATK by 73% for 29 sec.
28.3 sec
(Active 3)
Vigor Decrease
Vigor has been stolen by the enemies. They have dark circles and bags under their eyes.
Inflicts 361% damage on all enemies, and inflicts 57% damage per 15 sec.
23.1 sec
(Passive 1)
Whimsical Demon
The demon injects unpredictable, mysterious power into party members.
Inflicts 18% of random additional damage on all party members.
(Passive 2)
Demon's Ally
The demon's terrifying touch might feel like a helping hand to party members.
Increases ATK by 15% for all party members
Ad blocker interference detected!
Wikia is a free-to-use site that makes money from advertising. We have a modified experience for viewers using ad blockers

Wikia is not accessible if you've made further modifications. Remove the custom ad blocker rule(s) and the page will load as expected.