"
Now, you cannot defeat the invincible!
"

–unoffical wiki translation
Colossus of Flames, Gigantes Atlas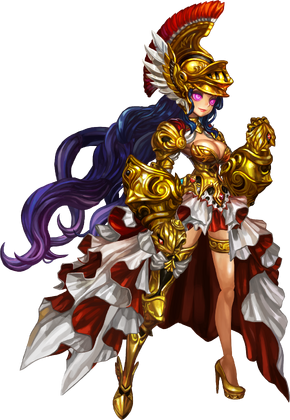 거신의 불꽃, 아틀라스
(geosin-ui bulkkoch, ateullaseu)

[i]
The twelve Gigantes that are mentioned in the ancient war song are also known as twelve gods of war. In the song, it is said that Atlas has a fiery fist that can destroy the stars and has red eyes that can penetrate through enemies' bloodthirsts.
Skill
Effect
Cooldown
Normal Attack
When she uses a normal attack, it removes one helpful buff of an enemy.
(Active 1)
Andromeda Punch
(PHY/Melee)
The firey punch of Atlas sends the enemies flying up to Andromeda.
Inflicts 3965% CRIT damage on 1 enemy (Dragon Buster rank enemy with a lower level of enhance stage than yours) with a 100% chance and catapults it out of the battlefield for 30 sec. When the battle ends before the enemy comes back, the enemy is deemed dead. A Boss that is not catapulted out of the battlefield receive an additional 3418% damage.
15 sec
(Active 2)
Shock Release
(PHY/Melee)
Releases a strong shock wave against all enemies who fight against you.
Inflicts 1969% damage to all enemies, removes all helpful buffs, and stuns for 8 sec.
16.3 sec
(Active 3)
Ultimate Counterattack
(PHY/Melee)
It's foolish to try to attack her when she can move faster than the enemy's bloodthirst.
Increases your ATK Speed by 175% and fixed damage by 80%. Reflects all attacks for 8 sec. Counterattacks with damage that is equal to 530% of ATK with a 100% accuracy.
18 sec
(Passive 1)
Unseal
She can feel that her power increases as she Awakened.
Increases her Skill Damage by 35% and normal attack by 114%.
(Passive 2)
High Spirit
Atlas becomes stronger each time she defeats an enemy.
Increases DEX by 102% when an enemy dies.
(Passive ULT)
Fight Against Fate
The determination to fight her own destiny increases her battle stats.
Heals HP equal to 28% of the damage that Atlas inflicted. Decreases Area of Effect damage by 25%.
Main article Key Adopted Passives

Rogue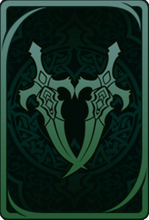 Passive 1
Passive 2
Passive 3
Perfect Attack
Bloodthirsty Blade
Maximize Chance
| Unit | Passive 1 | Passive 2 |
| --- | --- | --- |
| | x | x |
| | x | Power Within |
| | x | x |
| | Dramatic Smile | x |
| | x | Weapon Expert |
| | Heartfelt Revenge | Boldness |
| | Stretching | Fist of the Titans |
Skill
Explanation
Normal Attack
[PHY/Melee/SG]
(Active 1)
Andromeda Punch
(PHY/Melee)
"3965% CRIT damage" should just mean that she inflicts 3965% of her ATK as damage, which critical strikes with 100% chance.
She can kick out all Key units, not just Dragon Busters.
The Skill will in usualy be used right at the beginning of a battle. The unit that is "catapulted" will dissapear from target view, as both their model and potrait will vanish from the battle until the duration ends. The attack can be treated as a debuff as it can be reflected back by skills such as Gigantes Tethys' shield. Immunity however does not seem to effect it (confirmation as the battles are hard to observe). Furthermore, cleanse cannot effect the catapult state.
(Active 2)
Shock Release
(PHY/Melee)
(Active 3)
Ultimate Counterattack
(PHY/Melee)
(Passive 1)
Unseal
(Passive 2)
High Spirit
(Passive ULT)
Fight Against Fate
Enhancement Costs
Enhance State
Stat Increase
Ressources
+1
10%
3 Transcended essences
1 SSS Ally
500.000 Gold
+2
10%
3 Transcended essences
1 SSS Ally
600.000 Gold
+3
10%
3 Transcended essences
1 SSS Ally
700.000 Gold
+4
20%
6 Transcended essences
1 SSS Ally
800.000 Gold
+5
20%
6 Transcended essences
1 SSS Ally
900.000 Gold
+6
20%
6 Transcended essences
1 SSS Ally
1.000.000 Gold
+7
30%
9 Transcended essences
1 SSS Ally
1.100.000 Gold
+8
30%
9 Transcended essences
1 SSS Ally
1.200.000 Gold
+9 / MAX
30%
9 Transcended essences
1 SSS Ally
1.400.000 Gold
Total
180% Stat Increase
54 essences total
9 SSS Allies
8.200.000 Gold
+10 / MAX+1
30%
9 Transcended essences
2 SSS Ally
1.600.000 Gold
+11 / MAX+2
30%
9 Transcended essences
2 SSS Ally
1.800.000 Gold
+12 / MAX+3
30%
9 Transcended essences
2 SSS Ally
2.000.000 Gold
+13 / MAX+4
30%
9 Transcended essences
2 SSS Ally
2.300.000 Gold
+14 / MAX+5
30%
9 Transcended essences
2 SSS Ally
2.600.000 Gold
+15 / ULT
30%
9 Transcended essences
2 SSS Ally
2.900.000 Gold
Total
360% Stat Increase
108 essences total
21 SSS Allies
21.400.000 Gold