| | | |
| --- | --- | --- |
| " | I will protect everyone. | " |
Colossus of Protection, Gigantes Chronos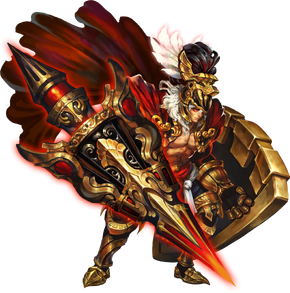 거신의 방벽, 크로노스
(geosin-ui bangbyeog, keulonoseu)

[i]
In the anicent history book, Chronos is known as the Gigantes and high commander in the war of gods. The shield that protects his allies, Barrier Ajax, and the spear that destroys everything, Ascalon, brings fear upon the enemies.
Skill
Effect
Cooldown
Normal Attack
When normal attack is used, the enemy's active skills will be reset to max cooldown with a set amount.
(Active 1)
Strike of Annihilation
(PHY/Melee)
Chronos focuses his power into his spear, Ascalon, to destroy the enemy.
Inflicts 3969% damage to 1 enemy and decreases DEF by 100% for 6 sec.
7.5 sec
(Active 2)
Ascalon's Bloody Cry
(PHY/Melee)
When the point of Ascalon's spear is directed towards the enemy, a bloody cry echoes.
Removes helpful buffs of all enemies, and inflicts 2034% damage. Enemies cannot use skills for 9 sec.
17 sec
(Active 3)
Barrier Ajax
Chronos' Aias Shield becomes as big as a bulwark.
He summons the Aias Shield that taunts all enemies and makes them only attack him. Decreases all allies' damage received by 25% when Aias Shield is summoned.
41 sec
(Passive 1)
Wrath
No one can control the enraged Chronos in battle.
When your HP drops down to 60% or lower, for 15 sec, your STR increased by 280% and decreases damage received by 40%. This effect cannot be dispelled. [CD: 58 sec]
(Passive 2)
Obstruct
Blocking the enemies' attacks in the vanguard of the battlefield fires up the moral of all allies.
Increases all allies' STA by 25% and decreases damage received by 15%.
(Passive ULT)
Chronos' Will
The red waves of sunset that conquers the battlefield is Chronos' will to protect the lives of his allies.
Returns 50% of the damage received back to the attack whenever Chronos' shield, is hit.
Main article Key Adopted Passives

Warrior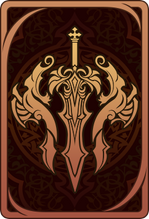 Passive 1
Passive 2
Passive 3
Sword Training
Physical Strenght
Intensifed Rage
| Unit | Passive 1 | Passive 2 |
| --- | --- | --- |
| | Obligation | x |
| | x | x |
| | Aesir's Blessing | Vanir's Curse |
| | x | Rejection |
| | Uplifted | Titan's Strength |
| | The Ultimate Order | x |
| | Guardian Shield | x |
| | Hammer Hell | Hammer Heaven |
| | A warrior's Order | Beast Penetration |
| | Intimidating the Kronos | Inspiring Presence |
Skill
Explanation
Normal Attack
[PHY/SG/Melee]
(Active 1)
Strike of Annihilation
(PHY/Melee)
(Active 2)
Ascalon's Bloody Cry
(PHY/Melee)
(Active 3)
Barrier Ajax
The Ajax is a unit by itself (see Pets). It has two times of Chronos' Maximum HP (DEF unknown)Needs retests. Once it dies, the damage reduction buff for the entire allied party but also the taunt on enemies will also disapear.
It is unknown whether Ajax will consum target CC abilites such as Gigantes Atlas' Punch or Dark Soul Morgana's Crystals. In Atlas' case, she does not seem to use the Punch on the shield at all, suggesting that such CC abilites will be postponed by enemy AIs, while Ajax is on the battlefield.
The description is also misleading, as the taunt will cause enemies to attack Ajax, not Chronos.
(Passive 1)
Wrath
(Passive 2)
Obstruct
(Passive ULT)
Chronos' Will
Enhancement Costs
Enhance State
Stat Increase
Ressources
+1
10%
3 Transcended essences
1 SSS Ally
500.000 Gold
+2
10%
3 Transcended essences
1 SSS Ally
600.000 Gold
+3
10%
3 Transcended essences
1 SSS Ally
700.000 Gold
+4
20%
6 Transcended essences
1 SSS Ally
800.000 Gold
+5
20%
6 Transcended essences
1 SSS Ally
900.000 Gold
+6
20%
6 Transcended essences
1 SSS Ally
1.000.000 Gold
+7
30%
9 Transcended essences
1 SSS Ally
1.100.000 Gold
+8
30%
9 Transcended essences
1 SSS Ally
1.200.000 Gold
+9 / MAX
30%
9 Transcended essences
1 SSS Ally
1.400.000 Gold
Total
180% Stat Increase
54 essences total
9 SSS Allies
8.200.000 Gold
+10 / MAX+1
30%
9 Transcended essences
2 SSS Ally
1.600.000 Gold
+11 / MAX+2
30%
9 Transcended essences
2 SSS Ally
1.800.000 Gold
+12 / MAX+3
30%
9 Transcended essences
2 SSS Ally
2.000.000 Gold
+13 / MAX+4
30%
9 Transcended essences
2 SSS Ally
2.300.000 Gold
+14 / MAX+5
30%
9 Transcended essences
2 SSS Ally
2.600.000 Gold
+15 / ULT
30%
9 Transcended essences
2 SSS Ally
2.900.000 Gold
Total
360% Stat Increase
108 essences total
21 SSS Allies
21.400.000 Gold