| | | |
| --- | --- | --- |
| " | My heart skips a beat when I'm with you. | " |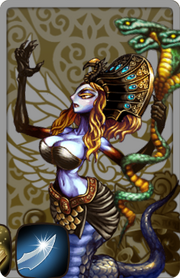 Healer Konfi is a talented healer who serves Queen Robellia. She is confused as to why her heart flutters when she is near the queen.
| | |
| --- | --- |
| Role | Healer |
| Main | Magic Wand |
| Offhand | Magic Orb |
| Main Attribute | INT |
Skill
Effect
Cooldown
(Active 1)
Dark Heal
Darkness holds the power to heal nature. Plead with the power of darkness to heal one ally.

Restores a party member's HP by 411% of ATK.

6.6 sec
(Active 2)
Poison Field
Gathers the earth's damp energy and drops it on the enemy.

Poisons and inflicts 42% damage for 12 sec (100% chance).

30.7 sec
(Active 3)
Tornado
A powerful energy is emitted when the sky collides with the earth.

Inflicts 229% damage on all enemies.

21.2 sec
(Passive 1)
Intelligence Boost
The study and understanding of nature brings a boost in intelligence.

Increases INT by 15%.

(Passive 2)
Frosty Energy
A night in nature is colder than ice. Gathers the cold of the night for use in attacks.

Adds Cold damage equal to 15% of ATK.
Additional Information
Konfi became best friends with Hunter Toori after she gave her a picture of Queen Robellia.












Ad blocker interference detected!
Wikia is a free-to-use site that makes money from advertising. We have a modified experience for viewers using ad blockers

Wikia is not accessible if you've made further modifications. Remove the custom ad blocker rule(s) and the page will load as expected.