| | | |
| --- | --- | --- |
| " | I'll mount your head on my wall. | " |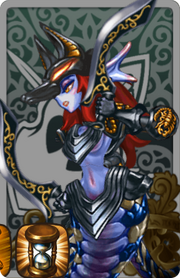 Hunter Toori the Black Wolf is strong and courageous. She is never charmed by handsome, and she never falters in her attacks.
| | |
| --- | --- |
| Role | DPS |
| Main | Dagger |
| Offhand | Dagger |
| Main Attribute | DEX |
Skill
Effect
Cooldown
(Active 1)
Slash
When the double daggers are unsheathed, a powerful energy will overcome the world.

Inflicts 570% damage.

13.1 sec
(Active 2)
Skill Wrecker
Lamias have an inherent ability to confuse their opponents.

Disables all enemies' skills for 17 sec (55% chance).

29.3 sec
(Active 3)
Shield Breaker
Lamias' powerful attacks and peculiar energy decrease the enemy's defense.

Inflicts 546% damage and decreases DEF by 53% for 24 sec.

20.1 sec
(Passive 1)
Outstanding Skill
Natural talents are brought out to their full potential through persistent training.

Increases DEX by 14%.

(Passive 2)
Battle Prep
The ability to attack quickly at any given moment is a result of continuous training.

Increases ATK Speed by 19%.
Additional Information
Her name is spelled as Tuly in some of the Party Effect descriptions.
She became best friends with Healer Konfi after giving her a picture of Queen Robellia.












Ad blocker interference detected!
Wikia is a free-to-use site that makes money from advertising. We have a modified experience for viewers using ad blockers

Wikia is not accessible if you've made further modifications. Remove the custom ad blocker rule(s) and the page will load as expected.