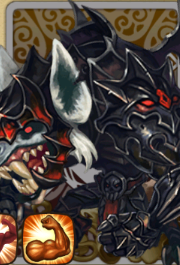 Captain Gnoll paints his body in black and aspires to be a merciless slayer. He claims that he's the strongest, but he secretly fears Mage Gnoll.
| | |
| --- | --- |
| Role | Tank |
| Main | Longsword |
| Offhand | Shield |
| Main Attribute | STR |
Skill
Effect
Cooldown
(Active 1)
Rage Smackdown
Two people barely lift up this axe. If someone strikes with this, oh man...

Inflicts 268% damage on all enemies.

18.2 sec
(Active 2)
Angry Kerang
Furious Gnoll captain's roar makes anyone freeze.

Inflicts 322% damage on all enemies and stuns them for 11 sec.

25.5 sec
(Active 3)
Invincible Gnoll
Not all Gnolls are small and weak. Gnoll captain can easily take down a wolf.

Increases all party members' ATK by 54%.

52 sec
(Passive 1)
Hard Gnoll
Gnoll captain as durable as the white bears!

Increases STA by 14%.

(Passive 2)
Sidekick Gnoll
Gnolls always train together, even though they always end up fighting for power.

Increases all party members' STR by 7%.
Ad blocker interference detected!
Wikia is a free-to-use site that makes money from advertising. We have a modified experience for viewers using ad blockers

Wikia is not accessible if you've made further modifications. Remove the custom ad blocker rule(s) and the page will load as expected.