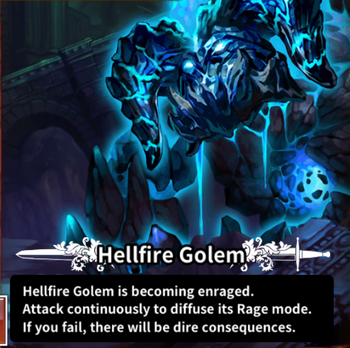 The Lava Golem world boss is available weekly on Tuesdays.
No attempts are allowed after 12:00am PST.
The Lava Golem (용암의 골렘, yongamui gollem)ⓘ was the first World Boss introduced in [insert patch].
Like all world bosses, the Health Points bar (HP bar) has been replaced by a countdown timer which shows the remaining time for attempting the Golem. He also possesses a buff bar, which shows any positive or negative status effects, as usual.
He attacks with a lot of Area of Effect (AOE) damage abilities and normal attacks, such as Stomp. Constant attacks from the player will result in a Hit animation, which partially delay his normal attacks.
Rage Mode Edit
After a channeling period, rage mode will kick in depending on a number of conditions. The channel will be announced by an in-battle announcement: "The Lava Golem is getting enraged, prepare to diffuse" They occur in set time intervals [insert time interval]. The channel itself will stop any action from the Golem and be indicated with floating, yellow barriers/shields surrounding him.
If the channeling is not diffused, the Golem will enter Rage mode which colors him in deep red. His attack damage and DEF rate will be boosted tremendously as he gains STR buffs.
Channeling can be broken by dealing enough damage within a certain amount of time [insert time]. This damage threshold increases with each following channel. [insert damage needed]. When a player initiates a rage mode by failing to break the channeling, no more channeling will occur.
The Boss will go into Rage mode after a certain time, regardliss of a broken Channel shield or not.
Tactics(Feb. 17th) Edit
For the new Lava Golem, the DOT and DEF decrease seem not as effective as they were for the old golem. And dual CDR got better performance.
Lava Golem now is able to instantly kill summoned creatures, which dooms Sasha. However, Lava golem can be stunned. If Atlas and Askr are both at presence, there is a high chance to stun lock Lava golem, but Iota doesn't want this. It takes Iota 4-6 minutes to get her boss damage card when Atlas and Askr are in the team. There is a chance that Askr alone could provide sufficient stun for the Lava golem. Despite the low chance, it still worth trying since Atlas isn't good as attacker or supporter besides a 'stunner'.
There should be a balance of supporters and attackers. Ideally. it's Tiehr and Sasha supported by other 5. Depending on each player's own scenario, the balance will vary.
Boss Skills Edit
Skill Name
Effect
Frequency
Increased Rage
Lava Golem's Rage is rising.
Upon set Intervals.
Lava Splitt
Inflicts damage over time on all enemies.
Solid Fist
Stuns 1 enemy and inflicts damage to surrounding enemies.
Roar of Rage
Silences all enemies.
Will also remove any summons successfully hit. Commonly known as "Banish".[1]
Melting Strengh
Removes enemies' buffs.
The Lava Golem will reward players with Arena Coins. You can use Arena Coins to purchase Costumes and Special Jewels.
The following rewards are given to those who reach certain ranks and achievements:
Ranks 777, 7777, 77777 are rewarded 100 extra rubies.
10 (Max) attempts will be rewarded with 5 extra rubies.
Reaching 1 million points will reward 15 extra rubies.
| | |
| --- | --- |
| Rank 1 | 300 Rubies + 87 Arena Coins |
| Rank 10 | 200 Rubies + 70 Arena Coins |
| Rank 50 | 150 Rubies + 61 Arena Coins |
| Rank 1% | 100 Rubies + 52 Arena Coins |
| Rank 5% | 70 Rubies + 42 Arena Coins |
| Rank 10% | 40 Rubies + 35 Arena Coins |
| Rank 20% | 20 Rubies + 28 Arena Coins |
| Rank 30% | 9 Rubies + 21 Arena Coins |
| Rank 40% | 8 Rubies + 12 Arena Coins |
| Rank 50% | 7 Rubies + 7 Arena Coins |
| Rank 60% | 6 Rubies + 3 Arena Coins |
| Rank 70% | 5 Rubies + 2 Arena Coins |
| Rank 80% | 4 Rubies + 1 Arena Coins |
| Rank 90% | 3 Rubies + 1 Arena Coins |
| Rank 100% | 2 Rubies + 1 Arena Coins |
References
Edit
Ad blocker interference detected!
Wikia is a free-to-use site that makes money from advertising. We have a modified experience for viewers using ad blockers

Wikia is not accessible if you've made further modifications. Remove the custom ad blocker rule(s) and the page will load as expected.