This article is a stub (WIP) & could offer more information.
You can help by editing it.
Details for skills and chosen Arena opponents needed.
Nightmare Dungeon
(나이트메어 던전,
naiteumeeo deonjeon
)
ⓘ
is a
PvP
game mode added to the Korean game version on
19th March 2016
, and to the Global version on the 1st Febuary 2017, as an addition to the
Honor Gorge
.
Despite its PvP alignment, it confronts the player with modified and fully AI controled
Arena
participants. Additionally, its reward pattern and general design can be compared to the
Tower of Validation
.
Game Mode
Participation Requirments
In contrast to other modes which are usually unlocked on level 10, Nightmare only allows characters with the currently maximum level to attend the game mode. On its first introduction that was level 102, but the requirement increases with each level cap.
The requirement for players to be chosen
Lobby and Party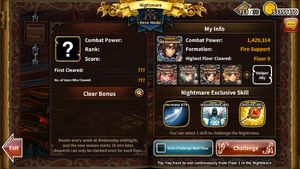 A party is made up of 1 Character + 4 Allies and an optional Helper. The team must not be filled to attend the mode.
In Buster league, players can equip Keys but are not required to, whereas in Hero league no Keys are allowed.
In the preparation panel on the right side of the screen, the player can choose his [[#Nightmare Skills|]], assign his party and view his Combat Power.
Nightmare's Combat Power is assumed to be calculated by the ATK and offensive stats of the player's party.
In the left panel, the mode will display information and acquired rewards of floor opponents that the player has defeated. No information or player will be displayed when the floor has yet to be reached.
Gameplay
The Nightmare tower descends downwards and consists of 7 underground floors. In the Korean game version that number has initially been 10 floors[1], which was later decreased to the amount that the Global version already received on its first launch.
Players always start from the 1st floor
Nightmare Skills
The player can purchase a consumable "Nightmare Skill" before attending the battle.
Only one skill can be chosen and its usage is limited to one charge per attendance. The purchase consumes 50.000 

.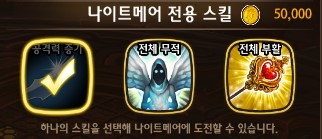 Increase ATK increases the ATK by ()% for () seconds.
Invulnerable (All) makes entire allied party, including the Helper, invincible for () seconds.
Revive (All)
Rewards
Each Nightmare floor only grants rewards once per week/season. The game mode and rewards reset every Wednesday 12.00 AM and a new season starts after 10 minutes.
Chests (Wooden~Gold)
Coin Pouch

grant a random amount of ranking coins.
The Global game version already seems to feature the rewards that were initiated with the Hero Mode removal in the Korean game version.
Global rewards have not been confirmed yet
Floor
Rewards
Comparsion KR
1
2x Bronze Chest
1x Coin Pouch
2
2x Bronze Chest
1x Coin Pouch
3
2x Bronze Chest
2x Coin Pouch
4
2x Silver Chest
2x Coin Pouch
5
2x Silver Chest
3x Coin Pouch
6
2x Silver Chest
4x Coin Pouch
7
2x Gold Chest
4x Coin Pouch
Title: Hell's Knight
References
Edit
↑ "나이트메어" 던전은 지하 1층을 시작으로 지하 10층까지 전투가 진행됩니다., in http://cafe.naver.com/dragonblaze/1805423
Ad blocker interference detected!
Wikia is a free-to-use site that makes money from advertising. We have a modified experience for viewers using ad blockers

Wikia is not accessible if you've made further modifications. Remove the custom ad blocker rule(s) and the page will load as expected.