| | | |
| --- | --- | --- |
| " | Heehee. I'll be the last thing you ever see. | " |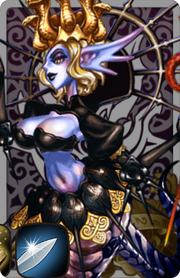 Queen Caberra is cruel and despises all humans. She will do anything and everything to protect the spear of the ancient god, Longinus.
| | |
| --- | --- |
| Role | DPS |
| Main | Magic Wand |
| Offhand | Magic Orb |
| Main Attribute | INT |
Skill
Effect
Cooldown
(Active 1)
Magic Wave
Deals powerful damage using the power of magic.

Inflicts 300% damage on all enemies.

23.3 sec
(Active 2)
Eraser
The ability to control magical energy can influence both allies and enemies.

Removes beneficial magic-based buffs from 1 enemy.

6.5 sec
(Active 3)
Lamb Chaos
Mysterious magic turns the entire enemy camp into an area of Lamb Chaos.

Transforms enemy into a lamb for 13 sec and decreases DEF by 35% (55% chance).

35.6 sec
(Passive 1)
Intelligence Boost
The study of magic has naturally increased the level of intelligence.

Increases INT by 15%.

(Passive 2)
Power Attack
Accumulates the energy of nature inside to allow for more powerful attacks.

Increases ATK by 31% of base ATK.
Additional Information
Longinus is the name of the Roman soldier who pierced Jesus's side with his spear as he hung on the cross. He was later made a saint. His lance is sometimes known as the Lance of Longinus, Holy Lance, or the Spear of Destiny.












Ad blocker interference detected!
Wikia is a free-to-use site that makes money from advertising. We have a modified experience for viewers using ad blockers

Wikia is not accessible if you've made further modifications. Remove the custom ad blocker rule(s) and the page will load as expected.