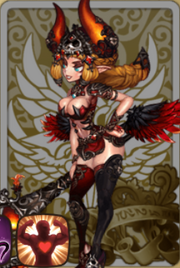 Thryl's younger sister Sara loves her tribe unlike Thryl. Even after opening her eyes to the power of darkness, her heart for her tribe remains the same.
| | |
| --- | --- |
| Role | Healer |
| Main | Magic Wand |
| Offhand | Magic Orb |
| Main Attribute | INT |
Skill
Effect
Cooldown
(Active 1)
Dream Heal
Suck out energy from dreams and share it with allies
Recovers allies' HP by 695% of ATK.
13 sec
(Active 2)
Demon's Kiss
Sweet poison... Lost in the sweet kiss of the demon.
Inflicts 866% damage on 1 enemy and silences it (55% chance) for 17 sec.
16.4 sec
(Active 3)
Energy Absorption
Succubi's mealtimes start once everyone goes to sleep.
Inflicts 46% damage on all enemies and Life Steal 18% of damage.
25.5 sec
(Passive 1)
Playing Victim
She has peculiar taste. What doesn't kill you makes you stronger.
When hit, Heal rate of allies will be 14% for 10 sec and Life Steal will increase by 771 (30% chance).
(Passive 2)
Energy Provider
Distribute the blessing's continuous energy absorption to all allies.
Increase all party members' STA by 6%
Additional Information
Encountered at Shadow Castle.












Ad blocker interference detected!
Wikia is a free-to-use site that makes money from advertising. We have a modified experience for viewers using ad blockers

Wikia is not accessible if you've made further modifications. Remove the custom ad blocker rule(s) and the page will load as expected.