| | | |
| --- | --- | --- |
| " | Stand back. I am Loki. | " |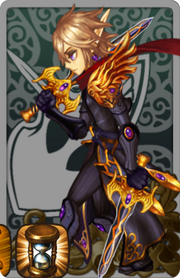 He is the only one recognized by the Orcs as the victor of ancient Azur.
| | |
| --- | --- |
| Role | DPS |
| Main | Longsword |
| Offhand | Dagger |
| Main Attribute | DEX |
Skill
Effect
Cooldown
Normal Attack
Decreases HP recovery amount
(Active 1)
Pontus's Hail
Pontus's endless tsunamis crush enemies.

Inflicts 860% damage.

11.1 sec
(Active 2)
Hurricane Blade
This blade is infused with the destructive power of a tornado.

Inflicts 259% damage on all enemies.

27.7 sec
(Active 3)
Gaia's Blessing
Gaia, the goddess of Earth, blesses the High Elves.

Decreases all enemies' ATK Speed by 20% for 19 sec and increases self's ATK Speed by 40% for 32 sec.

46.8 sec
(Passive 1)
Pegasus's Energy
Accepts the energy of Pegasus for nimble movement.

Increases DEX by 13%.

(Passive 2)
Griffon's Ambush
The Elves have mastered the skills of the Griffons, the longtime friends of the High Elves.

Increases ATK Speed by 28%
Additional Information
Loki is named after the Norse god of trickery of the same name.
Pontus, Gaia, and Pegasus are names from Greek mythology. Pontus is an ancient sea-god and is the son of Gaia, the goddess of Earth. Pegasus is the name of a winged horse.
A griffon (also spelled griffin and gryphon) is a mythological creature that has the head and talons of an eagle and the lower body of a lion.









Ad blocker interference detected!
Wikia is a free-to-use site that makes money from advertising. We have a modified experience for viewers using ad blockers

Wikia is not accessible if you've made further modifications. Remove the custom ad blocker rule(s) and the page will load as expected.