| | | |
| --- | --- | --- |
| " | Tell me, Shadow Howl... about the truth of this world! | " |
The Iron Wall, Storm Bear
강철의 벽 , 스톰베어
(gangcheol-ui byeog , seutombeeo)

[i]
The owner of the mighty sword 'Dragon Slayer,' Storm Bear protects his allies by deflecting enemy attacks with his weapon.
Class
Warrior
Role
Tank
Main
Longsword
Offhand
Shield
Main Attribute
STR
Gearing Recommendation
Skill
Card

Area of Speed
Dual
Card

& AREA OF SPEED
Weapon Effects
COOLDOWN REDUCTION
COOLDOWN REDUCTION
Comment:
Skill Preview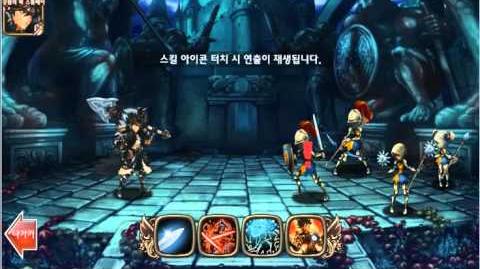 Trivia
Penrir, as in Fenrir, is a figure from Norse mythology and resembles a huge wolf, the second child of the god Loki.
The Aesir and Vanir were two groups of gods from Norse mythology. The Aesir were the main group of gods while the Vanir were a group of nature gods. Some of the Vanir, like the siblings Freya and Freyr, eventually went over to the Aesir after a war between them.




Berserkers were warriors described in Old Norse tales who were capable of entering uncontrollable trance-like rages in battle. In fact, their name comes from the fact that they would go into battle naked except for a bear pelt covering them. The English word berserk comes from their name.
Storm Bear has some similarities with the character Guts from the manga Berserk, who is an unstoppable warrior clad in black armor that wields a giant two-handed sword. Guts's sword, which is also named Dragon Slayer, is often described more as a slab of iron rather than a sword and he often uses to deflect attacks, like Storm Bear.



Ad blocker interference detected!
Wikia is a free-to-use site that makes money from advertising. We have a modified experience for viewers using ad blockers

Wikia is not accessible if you've made further modifications. Remove the custom ad blocker rule(s) and the page will load as expected.