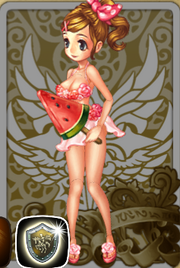 She was a beacon of hope for everyone since birth. You must meet her if you wish to see her true powers.
| | |
| --- | --- |
| Role | Healer |
| Main | Magic Wand |
| Offhand | Magic Orb |
| Main Attribute | INT |
Skill
Effect
Cooldown
(Active 1)
Heal All
Uses the power of light to revitialize your tired party members
Restores the HP of all party members by 201% of ATK.
7.9 sec
(Active 2)
Purify All
Know the world and understand its light, and you will be able to correct injustice.
Removes debuffs from all party members.
13.5 sec
(Active 3)
Revivial Energy
Sincere concern for allies will result in miracles.
Revives 1 incapacitated party member with 25% HP.
54.5 sec
(Passive 1)
Power of Heal
Loyalty towards your allies will help you develop your skills.
Increases HP Recovery by 14%.
(Passive 2)
Secure Defense
Boosts stamina in order to take better care of allies.
Increases entire party's STA by 6%.
Ad blocker interference detected!
Wikia is a free-to-use site that makes money from advertising. We have a modified experience for viewers using ad blockers

Wikia is not accessible if you've made further modifications. Remove the custom ad blocker rule(s) and the page will load as expected.