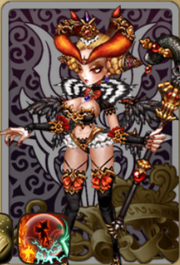 Thryl's fatal attractiveness steals the opponent's energy to brutally violate them. Even after opening her eyes to the power of darkness, the allure remains in tact.
| | |
| --- | --- |
| Role | DPS |
| Main | Magic Wand |
| Offhand | Magic Orb |
| Main Attribute | INT |
Skill
Effect
Cooldown
(Active 1)
Fantasy Energy
You'll be mesmerized by her eyes and fall into deep sleep.

Inflicts 928% damage on 1 enemy and reduces Heal by 143% for 11 sec.

46.2 sec
(Active 2)
Demon of Seduction
Allure everyone into darkness.

Inflicts 361% damage on all enemies and decreases ACC by 30 for 19 sec.

28.3 sec
(Active 3)
Keep Dreaming
One sheep, two sheep... The curse of a powerful dream.

Inflicts 1083% damage on 1 enemy and turns them into sheep (60% chance), decreasing their DEF by -35% for 15 sec.

24.3 sec
(Passive 1)
Demon's Knowledge
Succubi sneak into dreams to steal knowledge.

Increases own INT by 18%.

(Passive 2)
Talking Nightmare
All you can to in a nightmare is flounder.

Increases own Immunity by 15.
Additional Information
Encountered at Shadow Castle.












Ad blocker interference detected!
Wikia is a free-to-use site that makes money from advertising. We have a modified experience for viewers using ad blockers

Wikia is not accessible if you've made further modifications. Remove the custom ad blocker rule(s) and the page will load as expected.